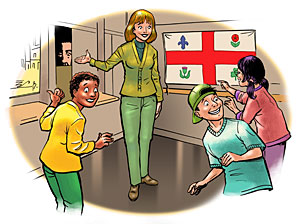 Since 1983, the mission of the Centre d'histoire de Montréal has been to explain the city of Montréal and its inhabitants as they are today. The museum focuses on the history, heritage and material or cultural traces that are still visible, as well as on the life stories of Montrealers.
This mission is expressed not only in its exhibitions, but also in its animation and interpretation activities both on-site and elsewhere throughout the city, guided tours, publications, websites, memory clinics, documentation centre and different kinds of collaborations.
Guided tours, focused tours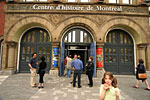 The Centre d'histoire de Montréal, 2006. Photographer: Denis-Carl Robidoux.
The Centre d'histoire de Montréal is interested in offering a global view of Montréal history from 1535 until today. Our visits are tailored to meet your needs: a child who comes to visit with his or her class, an adult who is learning French, or a family member on a Saturday afternoon outing. Similarly, the visit that secondary school students experience will be different from the one offered to primary school children.
Our educational activities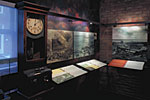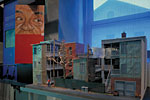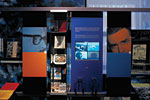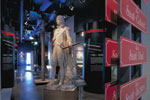 Inside the Centre d'histoire de Montréal.
Citizens of Tomorrow at the Centre d'histoire de Montréal
During your Citizens of Tomorrow visit to the Centre d'histoire de Montréal, the students will explore the city known to each of the mayors in the activity Special election: five mayors on the campaign trail.
We will also look at the Hochelaga Iroquois society in about 1535 and French society at the time Montréal was founded. We will see the beginnings of municipal democracy with the first elections in 1833. After their visit to the exhibition Montréal, Five Times, the students will vote for the candidate of their choice.
After lunch, the guide from the Centre d'histoire de Montréal will introduce the municipal archives by showing students authentic documents and reproductions. They will then be ready to go to meet an archivist at City Hall and to visit the archives.
The website for the Centre d'histoire de Montréal: www.ville.montreal.qc.ca/chm

Next - The vaults of the Section des archives de la Direction du greffe