Impressive Collections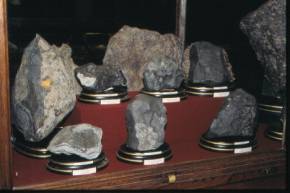 Enlargement
Display of several main masses at the Naturhistorisches Museum in Vienna.
Over the years, numerous specimens have been added to the world's greatest collections of meteorites. The pieces most sought after by curators are rare specimens, observed falls, and meteorites that have fallen in their country. If you go to Paris, Vienna, New York, Washington, London, or Berlin, a visit to their natural history museums is a must—their impressive collections of meteorites are a sight to see.
Historic falls like Orgueil, Ensisheim, and L'Aigle are among the jewels of the meteorite collection at the Muséum national d'Histoire naturelle in Paris. Vienna's Naturhistorisches Museum is specialized in collecting main masses in addition to studying cosmic dust (micrometeorites).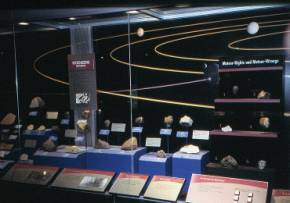 Enlargement
Meteorite display in the Hall of Geology, Gems and Minerals, Smithsonian National Museum of Natural History, Washington, DC.
The American Museum of Natural History in New York holds some of the largest American meteorites, including Cape York and Willamette. The Smithsonian Institution's collection in Washington is one of the most important in the world—it holds 17,000 specimens from 9,250 different meteorites. This collection is particularly rich in iron meteorites. In addition, the collection includes 7,000 thin sections for study purposes.
The natural history museums in London and Berlin have recently organized expeditions to collect samples in hot and cold deserts. Meteorites from the Antarctic and from the Sahara have been added to their respective collections.
Enlargement
The museums mentioned are not the only ones that collect meteorites. The natural history museum in Prague, Czech Republic, also owns a large collection of meteorites.