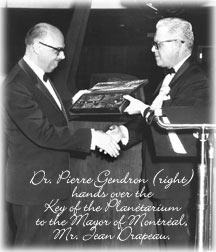 The Montréal Planetarium — formerly known as the Dow Planetarium — was inaugurated on April 1, 1966 by Mr. Jean Drapeau, who was Montréal's mayor at the time. This event marked the culmination of more than three years of planning and hard work by Dr. Pierre Gendron, who was past professor of chemistry and founding Dean of the Faculty of Science at the University of Ottawa, and an avid amateur astronomer. At the time, Dr. Gendron was also president of the board of directors of Dow Breweries, which later became O'Keefe Breweries (since then absorbed by Molson Breweries). It was through his impetus that Dow Breweries decided to endow Montréal with a world class planetarium, add to the city's touristic appeal, and to the Montréal Universal and International Exposition of 1967, Expo 67.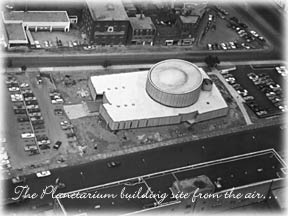 Plans for the Planetarium were developed by the architectural firm of David-Barott-Boulva. The innovative design echoed an astronomical theme, evidenced by the exterior of the dome which resembles Saturn surrounded by its rings. The Planetarium was built at a cost of 1.2 million dollars and located on Chaboillez Square which once served as a parking area.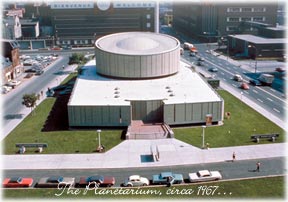 In February 1966, the building and its projection equipment were ready as several lecturers busily prepared for the inaugural show, "New Skies for a New City" which premiered on April 4, 1966.
Since opening day, the Planetarium has produced more than 250 shows, attended by nearly six million spectators; and 50 lecturers have given more than 58,000 presentations in the Star-Theatre.
For over 45 years, the Montréal Planetarium has disseminated scientific and astronomical information to the public. The time has come to open a new chapter in this long history: the Rio Tinto Alcan Planetarium, presently under construction near the Biodôme, will open its doors to the public in the spring of 2013. Meanwhile, the "old" Planetarium ceased its public activities on October 10, 2011.
The Monument to Copernicus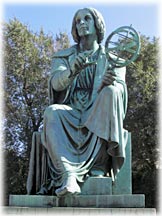 Two works of art are located on Chaboillez Square, in front of the Planetarium. The first is a replica of the Monument to Polish astronomer Nicholas Copernicus. The original was cast in 1822 by Danish sculptor Bertel Thorvaldsen (1770-1844) and erected in downtown Warsaw in 1830. A plaque affixed to the concrete base reads as follows:

AUX CITOYENS DE MONTREAL
FRATERNELLEMENT,
LES CITOYENS DE ROTTERDAM
325e ANNIVERSAIRE
DE LA FONDATION
DE MONTREAL
17 MAI 1642-1967
"To the Citizens of Montreal/ Fraternally,/ The Citizens of Rotterdam/
325th Anniversary/ of the Foundation/ of Montreal/ May 17 1642-1967"