The main feature at any planetarium are the astronomical shows presented in the "Star-theatre," so special attention has to be paid to the theatre's design. At the Montréal Planetarium, our Star-Theatre seats 385 people in a series of concentric circles.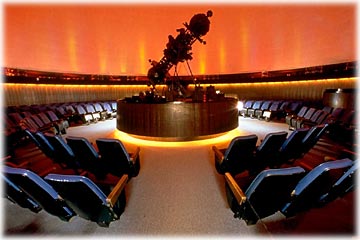 Above the theatre there sits a hemispherical dome, 20 metres in diameter. In all, 1309 thin aluminum plaques, each containing 2500 tiny perforations, cover the inside of the dome's tubular support structure. The perforations reduce weight and undesirable echos, by allowing sound to pass right through the dome. This means loudspeakers and even lighting effects can be placed behind the dome out of public view.
The Planetarium main piece of equipment is the Zeiss projector which sits at the centre of the theatre. The replacement cost of this 2.5-ton machine would be about 3 million dollars (Canadian). Apart from the Zeiss star projector, there are 70 slide projectors, and 150 projectors for special effects. Most of these were designed and built by our own planetarium technicians.
A circular corridor surrounds the theatre along the base of the dome. This allows technicians access to the many auxilliary projectors which lie just out of public view. Moreover, in an effort to reduce noise as much as possible, electrical relays, control pannels, and playback units are located in a seperate control room, from which the technician assists the lecturer.
In 1988, $600,000 was invested in upgrading the Planetarium. A new sound system and computerized projector controls were installed, and a new, ultra-futuristic control room was added.
Outside the theatre, a wide circular hallway houses the numerous exhibits we present each year. And, of course, there's the Planetarium boutique, which offers a wide choice of books, magazines, toys and educational games, as well as star atlases and planispheres for those who are passionate about astronomy.
The Montréal Planetarium is unique in Quebec, making astronomy and the related sciences available to everyone.