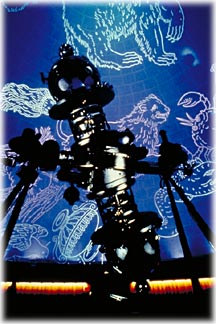 The giant planetarium projector located at the centre of our Star-Theatre is the real star of our shows. Built by Carl Zeiss in Oberkochen*, the instrument contains over 150 individual projectors, fixed and moveable, which operate individually or together in groups. The Zeiss planetarium is like an astronomical flight simulator. It accurately reproduces the night sky as seen by the naked eye from anywhere on Earth, from pole to pole.
In a sense, the Zeiss projector also functions as a time machine, since it can accelerate the movements of celestial objects, such as the Sun, Moon and planets, thereby reproducing the night sky as it appears at any time in history — past, present, or future.
Auxilliary projectors are used to illustrate the mythological constellations and to indicate celestial coordinates. Finally, special effects projectors reproduce a wide range of astronomical phenomena, such as meteor showers, the aurora borealis, and even a comet.
In a world where growing light pollution outshines the splendor of the night sky, the Zeiss projector offers a unique opportunity to see more than 9000 stars, not to mention numerous star clusters, nebulae, and galaxies — all under perpetually clear and cloudless skies...
More…
Carl Zeiss GmbH, Planetarium Division
---
* Oberkochen is located in the former West Germany. All operations of the Planetarium Divisions were consolidated in Jena in the 1990's following the reunification of Germany and of the Zeiss Company.